Over

25 years
of experience
POLISH MANUFACTURER OF STAINLESS STEEL PRODUCTS

SEE OUR CATALOGUES

POLISH MANUFACTURER OF STAINLESS STEEL PRODUCTS

SEE OUR CATALOGUES
Over

25 years
of experience

POLISH MANUFACTURER OF STAINLESS STEEL PRODUCTS

SEE OUR CATALOGUES
Over

25 years
of experience

POLISH MANUFACTURER OF STAINLESS STEEL PRODUCTS

SEE OUR CATALOGUES
Over

25 years
of experience

POLISH MANUFACTURER OF STAINLESS STEEL PRODUCTS

SEE OUR CATALOGUES
Over

25 years
of experience
OUR OFFER
We have been manufacturing stainless steel equipment for food processing plants and supermarkets for 25 years.
Our products are exported to all continents to about 50 countries around the world.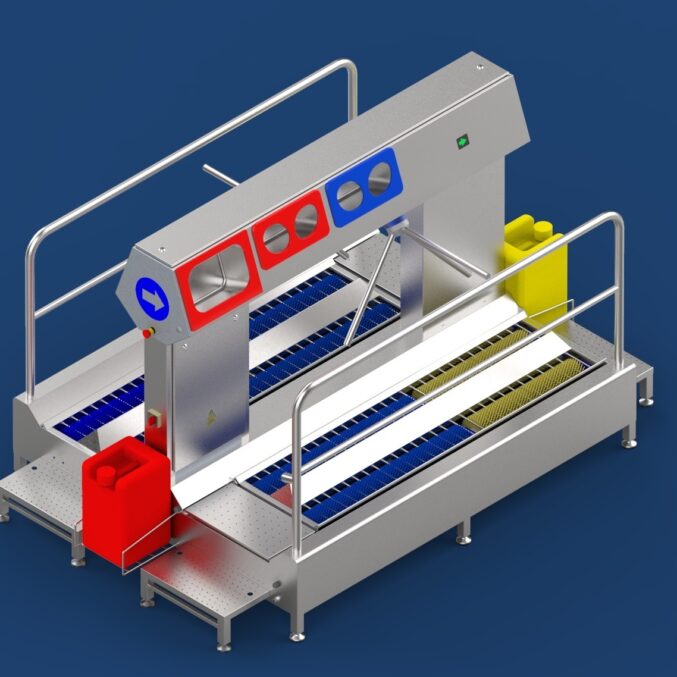 SANITARY DOUBLE SLUICE SUPER TWIN Cat. No 555606
We are pleased to present our latest solution of the integrated sanitary double sluice SUPER TWIN, cat no. 555606.
The sluice is intended for plants with heavy traffic and has the latest legally protected technical solutions.
The production entrance (1) is an integrated hand washing + drying + disinfection system combined with a mechatronic tripod and an anti-vandal sound system.
Automatically switched rotating brushes have two zones.
The first – blue one is for washing the soles with a cleaning liquid, the second – yellow one is for pressure disinfection of the soles with a disinfectant liquid.
Return from production (2) is the washing of soles integrated with a mechanical tripod (three- or two-arm).
The reverse sole washing function can be extended with easily replaceable longitudinal horizontal brushes for washing shoe uppers (3).
The sluice has a common water and electricity supply and one outlet.
The alarm function allows free passage in both directions.
We are pleased to announce that sluice with these solutions are already operational in the largest meat and fish plants.